The experience economy is defined as "an economy in which many goods or services are sold by emphasizing the effect they can have on people's lives"
The last decade has seen a dramatic rise in the importance of customer experience and the experience economy.
People are no longer seeking out products and services, instead choosing experiences to reach personal fulfilment; from expecting next day delivery to viewing new homes in augmented reality consumer's today control their customer journey.
A PwC survey entitled Experience is everything 73% of customer's surveyed point to experience as an important factor in their purchasing decisions, just behind price and product quality. Customers are willing to pay more for the experience qualities that matter most to them: 43% of consumers would pay more for greater convenience, 42% would pay more for a friendly, welcoming experience and 65% find a positive experience with a brand to be more influential than great advertising
This change in consumer sentiment means that organizations must find better ways to interact with its customers. Leaders who grasp the experience economy will build customer loyalty and create a significant competitive advantage.
Customer experience is now the key battleground in which most companies must compete. If a company isn't focusing on and investing in CX, they'll begin to lose their value and competitive advantage.
To create a great customer experience, a business must understand all points of contact between the customer and the brand. Every interaction - including pre-sales, purchase, and customer support - must provide the right experience to each buyer and meet customer expectations.
How a Knowledge Management System supports the experience economy
From the same PwC survey 80% of respondents value a knowledgeable service as important within their customer experience, 40% would be willing to pay more for it.
46% of consumers will abandon a brand if employees are not knowledgeable.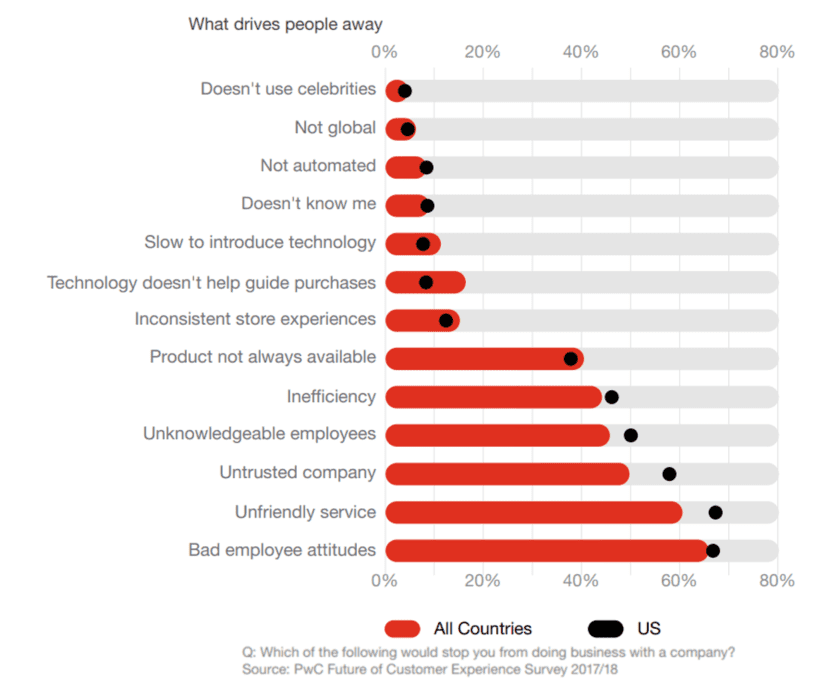 It's quite clear from the survey results above that being knowledgeable is an essential element of the customer experience. Being unknowledgeable risks the customer walking away and not returning.
Knowledge management [KM] is therefore an obligatory discipline and assists companies with their customer experience be it through their service desks, support teams or self-help digital channels.
Delivering excellent customer experiences begins with the internal knowledge that is available to your teams. Your toolkit plays such an important role in the ability to complete a job to a high standard and deliver results. It comes down to knowledge and the ability to access the information at the right time to solve problems and answer inquiries to satisfy customer's demands and expectations. An effective Knowledge Management System [KMS] like KnowledgeIQ will mean that the customer inquiry is handled in the shortest possible time and a positive outcome is achieved. This all builds on the brand awareness, generates repeat sales and thus improves the bottom line.
Below are a number of ways a KMS can improve customer experience
A KMS makes it easy for all customer facing team members to stay on the same page at all times. All team members have access to one up-to-date database of information – a single source of the truth. Enabling them to deliver responses via multiple channels, taking the pressure off agents, and giving your customers exactly what they want.
Giving your support and customer facing staff some hours back gives them some additional time and energy in solving the problems that do require a more hands-on approach.
A KMS allows for streamlined processes, a comprehensive knowledge management system removes friction for your various teams as they go about their duties.
Give your agents the functionality to provide feedback to the wider organization. Let them create both specific and general feedback and respond directly to content creators. Let them make iterative changes to your product or service to eliminate the most common problems your customers face.
KM empowers your customer service reps to help your development teams update features and improve your products and services. They can also give your marketing teams a better understanding of how to communicate with customers more effectively.
Knosys' KnowledgeIQ offers a multitude of features to address customer service, retention and content collaboration. Want to know more about how KnowledgeIQ can support your business contact the team for a personalized demo. Request your FREE demo